Kodak Pixpro AZ401 Card Errors and How To Solve Them?
As an Amazon Associate, I earn from qualifying purchases.
Kodak Pixpro AZ401 is a low-budget consumer camera from Kodak. Kodak's main marketing strategy with this model was its extensive zoom. But don't be fooled by it.
The Pixpro AZ401 provides a lot of zoom power for the price but image quality and performance are very disappointing. The only good things about this camera are its long zoom range and that it is cheap.
Despite all the issues, this is a very good astrophotography camera. But the Kodak Pixpro AZ401 also has a lot of known issues with its SD card. Such as Formatting errors, Card doesn't get recognized etc.
I'll be discussing some of the common issues and how to fix Kodak Pixpro AZ401 card errors.
Features & Specifications of Kodak Pixpro AZ401:
16.15 MP CCD Sensor
40x Optical Zoom Lens
24-960mm (35mm equivalent)
AA Batteries
30fps 720p HD Video Recording
24mm Wide Angle Lens
Price: $164.99
SD Card Compatibility Chart is given below.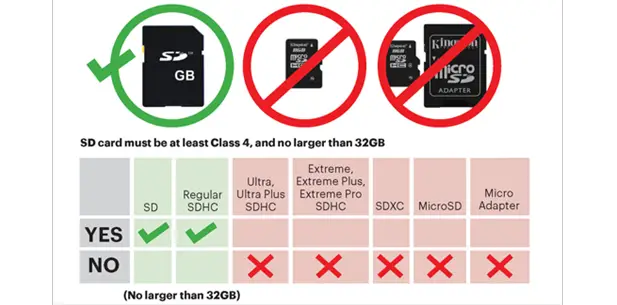 Common Kodak Pixpro AZ401 Card Errors:
| | |
| --- | --- |
| Problems | Solutions |
| Card Doesn't Format | Check if the card is corrupted. |
| Card Has The Wrong Format | Upgrade the firmware. |
| Doesn't Recognize Card | Use Class 4 or higher cards. |
| Camera Shuts Off While Saving A Photo | Replace with a warranty or reformat the SD card. |
| Lens Obstruction Error | Do not use PNY SD cards. |
1. Card Doesn't Format
Kodak's design is far from flawless. The pricepoint they set for their products is for the more budget-friendly customers.
When trying to use a card that is not supported it is unable to format it for use. At first, it shows an error message and asks to format it. A very good reason for a bad format is that the card itself is corrupted.
After formatting, the card boots up and takes you to the formatting option again. It creates an endless cycle of formatting but it doesn't do anything.
The Fix:
First, check if the SD card is good. Try formatting it on a computer. If it does format correctly insert it back and see if it boots or works.
If it doesn't and asks to format then try a different card and that should fix the problem. Try to get your hands on a Kodak-certified card that has no known formatting issues.
2. Card Has The Wrong Format
The Kodak Pixpro AZ401 is old camera technology. Back then SD cards weren't developed as much as today.
Old DSLRs could only read the FAT32 format of an SD card. The newer NTFS or NTFSx isn't supported natively. Although Kodak has dropped a few firmware upgrades to fix this, users keep facing the same issues with every new card.
The Fix:
Use a computer to plug in the SD card. Most likely the card is in NTFS format which the camera isn't able to read.
Format the SD card and set the format to FAT32 and set the allocation to default. After formatting, it should now be able to read the card considering it was formatted correctly.
3. Doesn't Recognize Card
The camera is not very heavyweight. It doesn't handle higher-class cards or large-volume cards very well.
Most of the errors that pop up are due to the usage of the wrong type of card. If the card is already out of its league then it becomes unable to read or format the card.
A lot of the time the camera heats up and shows a card error and hangs.
The Fix:
The only fix here is to use cards that are supported. Specifically, Class 4 or higher cards up to class 10. Using a class 4 card is the best choice here. Class 7 or class 10 cards are too fast for this camera to keep up.
Another criterion is that the card can not be more than 32Gb of volume. Cards under 4Gb are also hard for this camera to process. That is why Kodak has provided a compatibility chart for the camera.
Using cards that are supported will cause the least amount of issues and keep the camera healthy as well.
4. Camera Shuts Off While Saving A Photo
This is a very common issue with the Kodak Pixpro AZ401 and AZ421. The LCD shuts off right after powering it on.
The screen works fine until a photo is taken. The camera works as intended. Zooms in and out, and takes photos and videos even though nothing appears on the screen.
The Fix:
New digital cameras require a format of the card so the proper file/directory structure can be created. If the card is empty try formatting it. If you have files on it then move it to a PC and then format it.
If formatting doesn't solve the problem then it's most likely a faulty unit. Send it back to Kodak along with the SD card and get RMA. They will either fix the issue or if they can't find the issue then you will get a replacement unit.
5. Lens Obstruction Error
Another common problem with the Pixpro AZ series of the camera from Kodak is the lens obstruction error pop-up.
This problem is created by using the PNY Elite cards. The Elite series are class 10 cards. The Kodak Pixpro AZ401 only supports up to 4Gb of class 10 cards.
The Fix:
Avoid using the PNY Elite series class 10 SD cards. Use cards from Kodak or Sandisk that are most reliable on old technology. You can check listings here.
User Feedback on the Kodak Pixpro AZ401
Users have given mixed feedback on the Kodak Pixpro AZ401. Reviews are mostly negative with budget users expressing that it is exactly what they were looking for.
One user has commented that the camera is very to easy to set up for whatever the subject and the pictures aren't that bad.
Another user, who took this for photography classes found it very useful. He further explained how manual mode photos come out decent.
Most users have complained about how it drains through the battery. A full charge can keep the camera awake for no more than 3 hours. That was a big point of negative reviews about the camera.
Overall the camera scores well for the price and is being used to this day by budget-oriented users.
Frequently Asked Questions
Why won't my camera read my SD card?
Make sure the memory card's terminal is clean.It may cause a loose connection if dirty and the camcorder may not recognize the card correctly. Clean the terminal with a dry cloth or cotton swab, then re-insert it.
Where is the bootloader located in the Kodak camera?
For 10 seconds, press and hold the factory reset button on the side of the camera. The LED will turn off, then flash red and start to reset.
Why does my SD card say error?
Your SD card might have become write-protected if you experience one of the read/write issues. This means that it will not allow you to make any changes to the files on the SD card and only let you view the files. Other reasons include virus intrusions and bad sectors.
How do you change the lens of Kodak Pixpro AZ401?
Sadly, the response is negative. Because the lens on the Kodak Pixpro AZ401 Astro Zoom Camera is fixed, you cannot remove it or swap it out for another lens.
Conclusion
I have described how to fix Kodak Pixpro AZ401 card errors and provided potential solutions to them.
These are very common issues among its user base but considering its price and if you can get a Kodak SD card bundled with the camera, it is a very good choice offering from Kodak.
I hope this article helps you resolve the SD card errors you have been facing with your Kodak Pixpro AZ401.