Sony 24 GM vs 35mm GM: What Values Does Sony's GM Bring?
As an Amazon Associate, I earn from qualifying purchases.
The standards of the lenses are changing. New creative ideas insist on innovative application to lens technology and thus lens makers must keep up with the ever-changing demands of the customers.
Sony has redefined the prime lenses with its GM lineup of lenses. These lenses provide stunning visuals with resolutions that unlock the ethos of beauty.
The Sony 24 gm vs 35mm gm is a very widely argued topic amongst lens connoisseurs. Both lenses come packed with the tools to enhance and scratch the itch to take bokeh photos like never before.
I'll be looking at these two lenses to find out which lens has the upper hand.
Sony 24 gm vs 35mm gm: Quick comparison chart
Some key differences between Sony 24 gm vs 35mm gm:
| | | |
| --- | --- | --- |
| Features | Sony 24mm gm | Sony 35mm gm |
| Lens type | Prime | Prime |
| Focal length | 24mm | 35mm |
| Mount | Sony E | Sony E |
| Angle of view | 84 degrees | 63 degrees |
| Optical design | 14 elements/10 groups | 13 elements/10 groups |
| Maximum image magnification | 0.17X | 0.26X |
| Weather Sealing | Yes | Yes |
| Weight | 445g. | 524g. |
| Price | $1398 | $1398 |
| Buying link | Sony 24mm gm | Sony 35mm gm |
| Release date | October 2018 | March 2021 |
What are the Key Differences Between Sony 24 gm vs 35mm gm?
I am going to be discussing the key differences between the two lenses. The main focus will be on what possibilities and setbacks come with purchasing one of the two.
Price
Both lenses come at the same price of $1398. So price doesn't create a debate here.
Both are equal in this category. So, other qualities should be taken into consideration when deciding to buy one of the two.
Design, Build, and Spec
When comparing the Sony 24 gm vs 35mm gm and the design, they are identical. There are minor differences but the major difference between these two lenses is the focal length. The 24mm gm is wider while the 35mm gm is a bit tighter lens.
Here is some side-by-side comparison of how both the lenses look.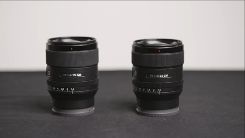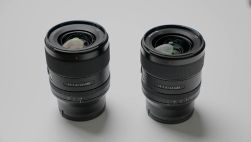 The Sony 24mm gm is a bit smaller than the 35mm gm which also makes it a bit lighter. But it is very hard to tell the difference when it's mounted to a camera.
The Sony 24mm gm weighs around 445g while the 35mm gm weighs around 524g.
Here are some photos of the dimensions of the two lenses.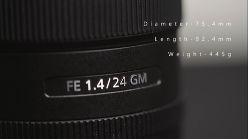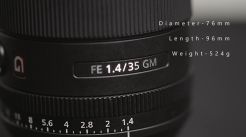 Both lenses come with a customizable focus hold button, a focus switch to go AF/MF, and an aperture click switch which makes it quiet for video shooting.
Here is a demonstration of the buttons.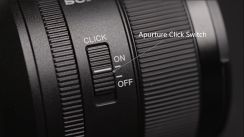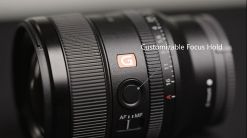 Both lenses can go from f1.4 to f16. Both of them come with a 67mm filter thread and 11 rounded circular blades with almost identical look and feel when held. They also come with the 2 XA elements that help with astrophotography and reduce the flaring of the stars.
The focusing motors are different in the two lenses. The 35mm gm has the new updated XD Linear Motors. The 24mm comes with the DDSSM Motors.
But there is very minimum focus breathing in this focal length which almost makes it not a good comparison criterion.
It is very hard to decide only based on appearance as both lenses are quite similar. These lenses are indistinguishable if I look at both of them together without their nameplates.
But considering the new linear motors on the 35mm and the focal length not being too wide or too tight it gets a point here.
In-hand Experience
The Sony 24mm gm vs 35mm gm, when used in outdoor photography sessions, produced similar results. With their size, dimensions, and weight being almost the same and both lenses being compact they did not prove difficult to carry in long sessions.
Let's look at some comparisons of photos taken with both lenses.

The photos are identical with the 35mm gm having bigger and cleaner bokeh balls in the background.
The 35mm gm produces a bit more vignette than 24mm gm which can sometimes be problematic in low light scenarios but it is negligible and can easily be managed by tilting the camera into the right frame
Here is a demonstration

Here the photo taken with the 24mm gm has been cropped down to simulate the 35mm focal length so it produces fewer pixels but the sharpness is very similar.
Images cropped while editing in the post both cameras performed identical and produced the same level of sharpness.
Here is a sample zoomed-in post.

The 35mm blurs the non-focused areas a bit more than the 24mm does, which makes the photos look better if there is only one subject in the photo.
The 24mm on the other hand delivers better-looking photos if there are multiple subjects on different focal lengths.
Both lenses were easy to manage. With outdoor photography, both will be very easy to carry and with the weather sealing provided with both lenses dust or light rain will not create problems.
Both lenses on these terms can fight head to head. So deciding which to get comes down to preference mainly.
Sony 24 gm vs 35mm gm: Which one is the Right Pick?
The Sony 24mm gm and the 35mm gm are great prime lenses that deliver identical performance and photos.
The 24mm gm being wider is better suited for landscape and cityscape. The 35mm can produce good results but it doesn't cover as much as the 24mm gm.
The 35mm gm on the other hand is a better choice for portraits and street photography with some landscape capabilities. The 24mm can take portraits but it will be more of an environmental portrait with the focus not being the subject.
All things considered, The 35mm gm from my perspective is the better choice. Not only does it shoot better portraits it still is wide enough for landscapes and cityscapes. It is also much better for product photography as it emphasizes the products better.
So, the winner is the Sony 35mm gm.
Frequently Asked Questions (FAQs)
Does Sony 24mm 1.4 have OSS?
It is a disappointment that Sony 24mm f 1.4 doesn't have OSS. But if your camera has image stabilization you will get good results on videography.
Is Sony 35mm good for portraits?
The 35mm focal length is ideal for landscape photography. You can have decent results in shooting portraits if you shoot from enough distance.
Is 24mm good for video?
The sony 24mm gm lens is an all-around lens for everything. You will have a great experience with videography as it is very lightweight. For being light you can work versatile with it.
What are Sony 35mm 1.8 lenses used for?
The 35mm is a suitable focal length for landscape, cityscape, and street photography. The Sony 35mm gm is a very lightweight lens that allows you to walk and shoot.
Most street photographers commonly use a 35mm lens for street photography. You can shoot nice portraits if you are at a perfect distance. 
Can you vlog on 24mm?
To vlog, using a wide-angle lens is recommended as you have to cover a lot of fields of view. Vloggers mainly use 10-18mm focal lenses to vlog.
It wouldn't be a good result if you vlog on a 24mm lens.
Final Words
Those were my opinion on Sony's lineup of GM lenses the Sony 24 gm vs 35mm gm.
To understand and make a decision, a photographer's needs should be considered first. So, there is no clear winner here. The decision changes with the needs and the type of scenes a user favors shooting most.
So, if the photographer is willing to let go of portraits to some degree and only focus on taking landscapes or wide scenes the 24mm gm is worth consideration.
Related Posts: