Tamron 150-500 vs Sigma 150-600 Sony: Is the Extra Money Worth It?
As an Amazon Associate, I earn from qualifying purchases.
Sigma 150-600mm is a good telephoto lens. It is a really good budget-friendly telephoto lens for photographers.
Tamron has a vast lineup of lenses for all kinds of cameras. Tamron 150-500mm is one of their best-selling telephoto lenses. It is a perfectly balanced lens that takes high image quality in a very compact form factor.
In this article, I will compare Tamron 150-500 vs Sigma 150-600 Sony.  I'll go over every minor detail to pay attention to and ultimately which option to select.
Tamron 150-500 vs Sigma 150-600 Sony: Quick Comparison Table
Here are some key differences of Tamron 150-500mm vs Sigma 150-600mm Sony:
| | | |
| --- | --- | --- |
| Features | Tamron 150-500mm | Sigma 150-600mm Sony |
| Mount | E-Mount |  E-Mount/ L-Mount |
| Focal Length | 150-500mm | 150-600mm |
| Weight | 1880g | 2100g |
| Maximum image magnification | 0.4X | 0.3X |
| Angle of View | 16.5 degree to 4.5 degree | 16.4 degree to 4.1 degree |
| Fast. Aperture | 150-241mm at f/5 242-389mm at f/5.6 390-499mm at f/6.3 50mm at f/6.7 | 150-173mm at f/5 174-365mm at f/5.6 366-600mm at f/6.3 |
| Price | On market | On market |
| Releasing date | June 2021 | August 2021 |
What is the Key Difference Between Tamron 150-500 vs Sigma 150-600mm Sony?
Here I will be talking about the key difference and which one is better in terms of features.
The Price:
There is a $200 difference in price between the two lenses.
The Tamron 150-500mm costs you around $1200.
Whereas the Sigma 150-600mm costs around $900.
They almost share the same type of features and both are amazingly well performers among the telephoto lenses.
So for being $200 less The Sigma 150-600mm is the winner.
Design and Size
The Tamron is smaller than the Sigma and it has a compact design to hold and shoot. If the lens extends to 500mm the camera is still very easy to hold and well ergonomic.
Sigma 150-600mm is a bit heavier than the Tamron 150-500mm. and when it extends to 600mm the lens gets bigger and not that comfortable to hold.
Here is a quick visual comparison of their size. (Fully extended)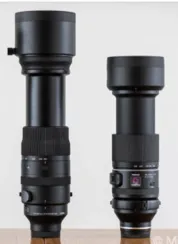 Tamron has a flex lock that allows the zoom ring to be grasped forward and secured at any position.
The Sigma has a torque switch that allows you to choose two different levels of resistance.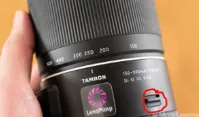 Tamron has a built-in Arc Swiss compatible lens foot. This allows the lens to slap onto an Arca Swiss head and start shooting.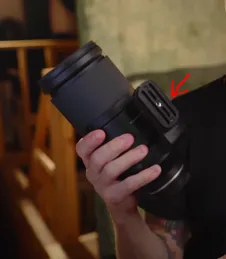 And Tamron 150-500mm lens allows you to remove the whole mount ring very easily.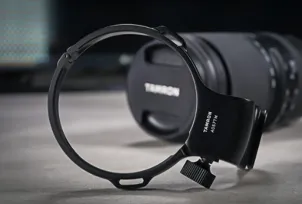 Sigma also has a plate-like Tamron that is Arca Swiss compatible but the whole ring doesn't come out like Tamron.
All these two lenses come with a plastic hood and plastic caps. The cap is soft and smoother in Sigma 150-600mm.
And both come with a strap attachment point.
If I sum all these up I will give Tamron the point for being lighter.
So Tamron 150-500mm is the winner.
Real-life experience
These are telephoto lenses mainly used for shooting wildlife and sports events.
Tamron does a great job of shooting the actions thanks to the lighter design.
There Sigma struggles a bit to focus on the subjects and for being heaving it gets shaky now and then.
Tamron shoots a sharp and good image with silent autofocus.
And Sigma does an okayish job for shooting the moving subjects compared to Tamron.
So If I judge them and score them in terms of real-life experience The Tamron 150-500mm is the winner.
Because it has better and fast autofocus capability and for being lighter it helps the photographers to hold them for a long time.  
The resolution
Here is footage of both cameras to demonstrate the resolution.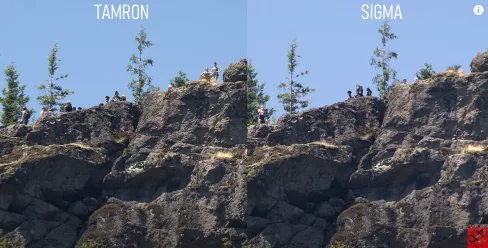 They both look very clear and sharp 500mm. But The Tamron has the sharpest image.
If you see the trees you will see a difference in color and details.
At 150mm f/5, the result is quite different than the earlier one.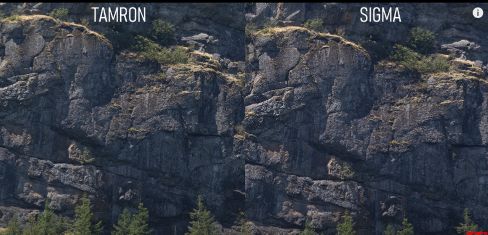 Tamron doesn't shoot that sharp image when it shoots at 150mm f/5.
Where Sigma 150-600mm takes an amazingly sharper image at the same aperture.
So If I discuss the resolution, Tamron has the point.
Because if you use a telephoto lens, you won't care about the minimum focal distance.
To shoot the subjects that are very far you will buy a telephoto lens. So if I prioritize the needs and purpose and choose one between them in terms of a sharper and better image, The Tamron 150-500mm is the winner.
Tamron 150-500mm vs Sigma 150-600mm Sony: Which One To Choose?
To me, Tamron is the one to choose. Not only because it takes a good and sharper image than Sigma, but it is also well balanced with the features.
Sigma 150-600mm is not a bad lens overall. But the lens has some drawbacks for being a budget telephoto lens. It misses the quality shooting of subjects and for having a poor autofocusing system, it lost the comparison.  
I think spending $200 more is worth it because not only you will find a full-frame lens but also you can shoot a sharper and nicer image with it.
What is a telephoto lens used for?
Telephoto lenses are lenses that have optics with a longer focal length of 200mm+.
The lenses I just talked about are telephoto lenses. Photographers use them to shoot wildlife and sports.
Telephoto lenses give you a great shooting distance because they can zoom and focus far.
Final Words
I hope you know everything about Tamron 150mm vs Sigma 150-600 Sony now. I have tried to cover the major things that differentiate the two lenses.
If budget is an issue you can go for the Sigma 150-500mm.
But will lose the sharper and better image quality. And for Tamron, it is recommended from every aspect of its features.
Related Posts: