Sony A7IV vs. A7RV: Features, Specifications and Differences
As an Amazon Associate, I earn from qualifying purchases.
Two new Sony mirrorless cameras, the A7IV and A7RV, provide a variety of new features and upgrades that make them appealing choices for photographers.
It is worth noting that these cameras show some major differences which will make you question 'Which one is better?'
To know the answer, follow this article with little patience so that you can finally come to a good conclusion with your decision.
Sony A7IV vs. A7RV: Quick Comparison Table
Here are some quick comparisons between the two cameras:
| | | |
| --- | --- | --- |
| Features | Sony A7IV | Sony A7RV |
| Sensor | 35.9 x 23.9 mm (Full-Frame) CMOS | 35.7 x 23.8 mm (Full-Frame) MOS |
| Resolution | Actual: 34.1 Megapixel Effective: 33 Megapixel | Actual: 62.5 Megapixel Effective: 61 Megapixel |
| Image Stabilization | Sensor-Shift, 5-Axis | Sensor-Shift, 5-Axis |
| Built-In ND Filter | None | None |
| ISO Sensitivity | Photo:100 to 51,200 (Extended: 50 to 204,800) Video:100 to 51,200 (Extended: 100 to 102,400) | Photo:100 to 32,000 in Manual, Auto Mode (Extended: 50 to 102,400) Video:100 to 12,800 in Auto Mode 100 to 32,000 in Manual Mode |
| Shutter Speed | 1/8000 to 30 Seconds | Mechanical Shutter 1/8000 to 30 Seconds 1/8000 to 1/4 Second in Movie Mode |
| Exposure Compensation | -5 to +5 EV (1/3 EV Steps) | -5 to +5 EV (1/3, 1/2 EV Steps) |
| Battery Life | 520 shots | 530 shots |
What are the Differences Between Sony A7IV and A7RV?
Sony A7IV and A7RV are very different from one another, however, they do share certain similarities. Let's first examine the similarities between the two cameras before moving on to the differences.
Both cameras include full-frame sensors, which produce outstanding images and operate well in low light.
With built-in Wi-Fi and Bluetooth, both cameras make sharing and remote control through a smartphone or tablet simple.
Due to their weather sealing, both cameras are resistant to environmental elements like moisture, dust, and abrasion.
Dual memory card slots for both cameras offer versatility and redundancy during shooting.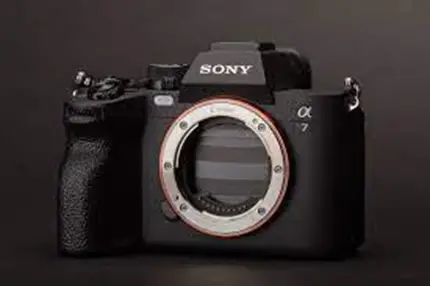 Sony A7IV
Sony A7RV
Now let's have a brief discussion about the differences between Sony A7IV and A7RV:
Sensor:
A back-illuminated 33-megapixel full-frame sensor, which helps the Sony A7IV operate better in low light and capture less noise, is a feature of the camera.
Moreover, the sensor has an extended standard ISO range of 50-204800 that is 100-51200 in length. The A7IV sensor's 15 stops of dynamic range, moreover, allows it to record a wide range of tones and details in both highlights and shadows.
As opposed to this, the Sony A7RV has a back-illuminated 61-megapixel full-frame sensor. Standard ISO settings for the A7RV sensor are 100-32000, although they can be increased to 50-102400.
The A7RV sensor also boasts an extremely high resolution, making it ideal for detailed landscape and architectural photography as well as for big prints.
ISO Range:
The Sony A7IV and A7RV's various ISO ranges, which were previously discussed, may have an impact on how well they perform in low-light conditions.
The usual ISO range for the Sony A7IV is 100-51200, however, it can be expanded to 50-204800. The camera can function effectively in a range of lighting situations, from brilliant sunshine to dimly lit interiors, because of its extensive ISO range.
Moreover, the A7IV contains a back-illuminated sensor, which enhances its performance in low light and lowers noise at higher ISO settings.
The standard ISO range for the Sony A7RV is 100-32000, however, it may be expanded to 50-102400. Whereas the A7RV's ISO range is not as extensive as the A7IV's, it can nevertheless function effectively in dimly lit environments.
Moreover, the back-illuminated sensor of the A7RV contributes to noise reduction at higher ISO settings, which can be advantageous while shooting in low-light conditions.
Continuous Shooting:
The continuous shooting capabilities of the Sony A7IV and A7RV can be essential for capturing action and subjects in motion.
In both mechanical and electronic shutter modes, the Sony A7IV can capture up to 10 frames per second while maintaining autofocus and autoexposure tracking. This qualifies it for catching quick motion in photography for sports or wildlife.
In contrast, the Sony A7RV can only capture up to 8 frames per second when using an electronic shutter and can capture up to 10 frames per second while using a mechanical shutter. This is a result of its 61-megapixel sensor's greater processing requirements.
 It is worth mentioning that the autofocus and auto-exposure tracking between frames on the A7RV might not be as quick as on the A7IV.
Autofocus:
A 759-phase-detection autofocus system on the Sony A7IV covers almost 94% of the image area. Moreover, it boasts real-time autofocus tracking, which enables the camera to keep track of moving targets.
The A7IV also boasts Eye AF, which can track and keep the focus on a subject's eye, whether it belongs to a person or an animal.
A 693-point phase-detection focusing system on the Sony A7RV covers about 74% of the image area.
It also offers Eye AF and real-time autofocus tracking, but with upgraded algorithms that can more accurately find and track animal eyes.
Battery:
The Sony A7IV uses a rechargeable battery, the NP-FZ100, with a capacity of about 710 shots per charge while using the LCD screen and roughly 520 shots per charge when using the viewfinder. 
The Sony A7RV uses the same NP-FZ100 battery as the A7IV but has a shorter predicted battery life because of its higher resolution sensor and more demanding processor.
While utilizing the LCD screen, the A7RV is rated for about 530 shots per charge, or about 440 shots per charge when using the viewfinder. For in-camera charging, it also contains a USB Type-C connection.
Price:
A mid-range full-frame camera, the Sony A7IV is anticipated to retail for between US$2,000 and US$2,500. Advanced enthusiasts and professionals looking for excellent performance in a more inexpensive package will likely be the A7IV's target market.
On the other side, the Sony A7RV is anticipated to be a more expensive full-frame camera, potentially costing between $3,500 and $4,000.
Professional photographers who require the best resolution and image quality and are ready to pay a premium for it will likely be the A7RV's target market.
It's crucial to remember that these prices are speculative and could change depending on the market and other variables.
Sony A7IV or A7RV: Which One Would Be a Better Option?
It is inaccurate to claim that one camera "wins" over the other because both the Sony A7IV and A7RV were created to accommodate various photographic demands and tastes.
The decision between the A7IV and A7RV depends on the user's personal needs because both are excellent cameras with unique features and advantages of their own.
For instance, the Sony A7IV might be a better choice for photographers who value quick autofocus, quick continuous shooting, and a lower price point.
But, the Sony A7RV might be a good option for those who value high resolution, advanced autofocus for wildlife photography, and are willing to pay a premium price for it.
In the end, it is up to the photographer to choose the camera that best suits their demands and shooting style, taking into account things like their budget, the shooting environment, the level of image quality they require, and their preferred features.