Best Camera for Filming Miniatures: Top Pick for 2023
As an Amazon Associate, I earn from qualifying purchases.
Miniature photography is one of the various kinds of photography that is combined with miniatures and the real world. The goal is to include true-size, real-world things, meals, or "entities" into the tiny universe rather than merely creating a scale model.
The newcomers in filming miniatures get confused about what to look for in the camera. And which one would be the best camera for filming miniatures?
This article will briefly describe to you the best camera for filming miniatures. And what the additional things you will need to perfectly show off your miniature collection.
Cameras For Filming Miniatures: Quick Overview
Here are some cameras I have listed for filming miniatures.
The good news is you don't have to invest a lot of money into cameras to get decent pictures of the miniatures.
Most people have a smartphone that can take proper pictures if they know how to do it.
Things you should be looking for in a camera at the minimum is
Manual white balance possibility to go to very low ISO settings.
A timer so that you don't shake the camera while pressing the shutter
A tripod to mount the camera still
Manual exposure and Manual aperture are a nice bonus to have but they are in the cameras by default.
Even some smartphones have manual exposure and aperture settings nowadays.
If you are on a budget you can consider a simple point-and-shoot camera and if you have the budget to spend more, you can always pick up the expensive ones.
You can use mirrorless cameras if you want as it has the versatility to switch between lenses and you will have amazing photos with them. And top of that Mirrorless system is cheaper than the full-frame DSLRs.
Popular miniatures content creator Trovarion Miniatures uses a $500 Panasonic Lumix G70 to shoot all his content.
Best Camera For Filming Miniatures: Review
Here are the details about the best camera for filming miniatures.
1. Canon M50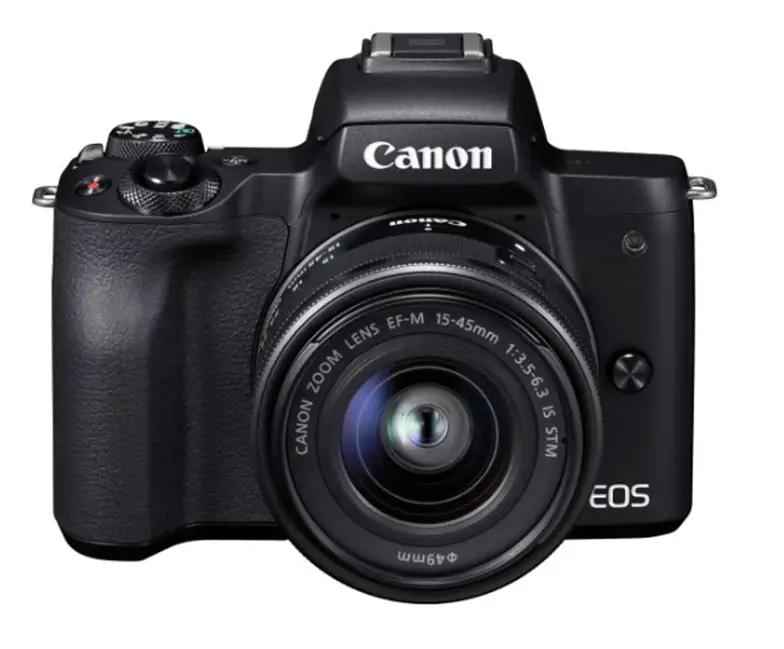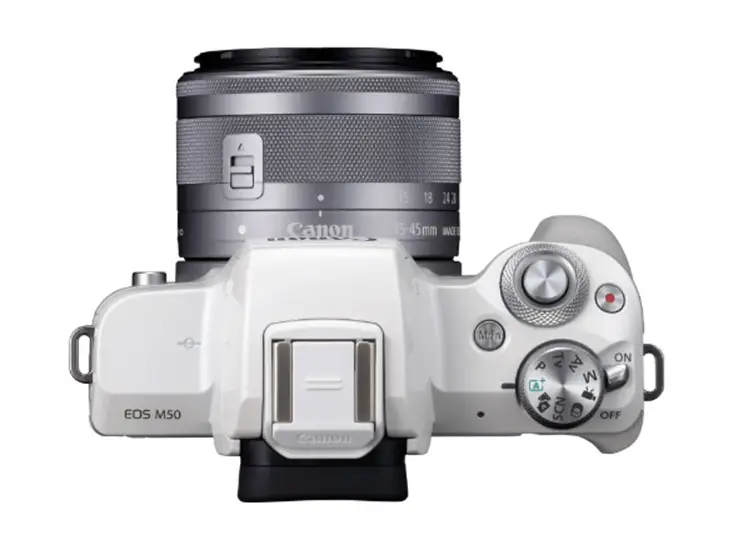 Specs:
Sensor: 24.1 MP APS-C CMOS 22.3 X 14.9mm
Image Processor: DIGIC 8
AF Points: 143/99- point Dual Pixel CMOS AF
ISO Range: 100 to 25,600
Max image size: 6,000 x 4,000
Metering zones: 384 zones
Video: 4K UHD at 25/24p
Viewfinder: OLED EVF, 2,360k dots
Memory card: 1x SD/SDHC/SDXC (UHS-I)
LCD: 3inch touchscreen, 1,040k dots
Max burst: 10fps (7.4fps with AF)
Connectivity: Bluetooth, Wi-Fi, NFC
Size: 116.3 x 88.1 x 58.7mm
Weight: 390g (with battery and memory card)
Canon M50 is Canon's one of the first mirrorless cameras. Canon had started its mirrorless lineup with the M50. The Canon EOS M50 manages to fit a lot of technology into its small chassis, and the fact that it has a viewfinder.
It has a 15-45mm kit lens that gives the camera very mediocre performance if you compare the footage with the higher-end DSLRs.
The camera is capable of recording 4K video although it has some limitations.
The ISO range is 100 to 25600 which is well suited for recording the miniatures. If you consider the best camera for filming miniatures the Canon M50 could be the one. The M50 not only is capable of shooting good photos but also it is a versatile camera that you can use anywhere.
It has an interchangeable lens facility that allows you to change any EOS Lens you want to fit with the camera.
As you will shoot miniatures, consider having a wide-angle lens. To have a clear idea about Canon M50 lenses check this article. If you want to know about Canon M50, watch the video or read the article.
2. Canon M50 Mark 2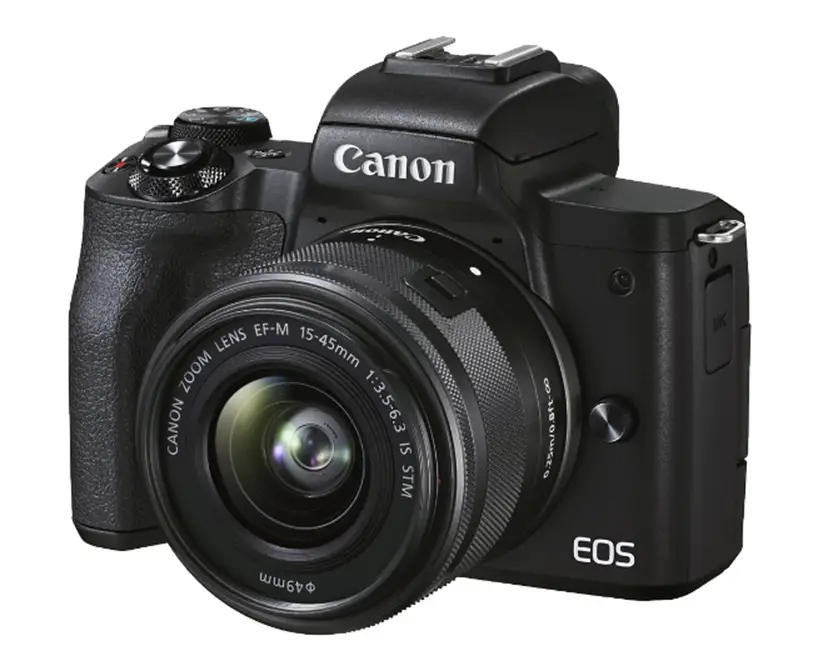 Specs:
24-megapixel APS-C sensor
Digic 8 image processor
Dual pixel autofocus with eye tracking
Fully articulated touchscreen LCD
2.36M-dot electronic viewfinder
7.4 fps bursts with continuous autofocus
305 shots per charge battery rating
Wi-Fi and Bluetooth
Web cam capability with Canon's EOS Webcam Utility
Wireless YouTube live-streaming capability
In November 2020 Canon released the second generation of M50. Named it Canon M50 Mark 2. With some little tweaking and upgrading of some of the features, the Canon M50 also can be the best camera for filming miniatures.
The M50 mark 2 has the same lightweight body and design that M50 had. But it has better battery life and a good eye-tracking system.
Although in every aspect it looks kind of the same the ISO can expand up to 56000 on the M50 mark 2.
The YouTube streaming capability is nice to have as you will take pictures of the miniatures to show off your work.
To know more about the Canon M50 mark 2, watch the video. To compare the camera in terms of performance, check this video.
Overall the M50 mark 2 remains the same as the M50. Canon kept the pricing the same as its predecessor.
3. Nikon Coolpix P510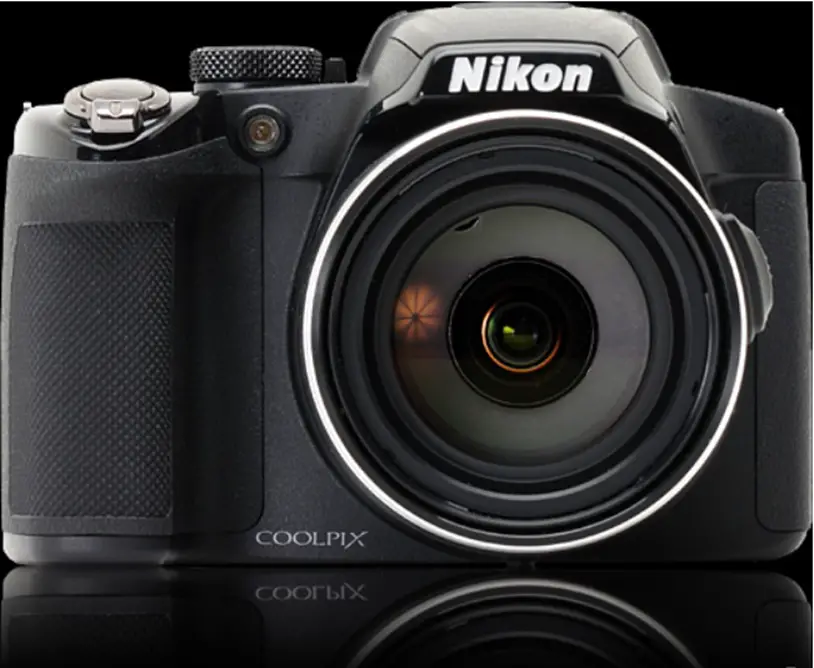 Specs:
16.1MP CMOS sensor
42X zoom (24-1000mm)
3in, tiltable 921k-dot LCD
PASM shooting modes
1920 x 1280 video mode
Inbuilt GPS with logging function
Weight (with battery and SD card) 555 g (1.22 lb / 19.58 oz)
Dimensions 120 x 83 x 102 mm (4.72 x 3.27 x 4.02 inches)
The Nikon Coolpix P510 is a 16 megapixel compact camera that has superzoom. The lens can zoom 42X and the focal length is 24-1000mm (equivalent).
Some of the forums have a good review on Nikon Coolpix P510. The camera is very easy to shoot and takes a very sharp image.
As the camera is very old you won't get high-resolution video footage from the camera. Although you won't need higher than the full HD footage. The ISO count is decent as well.
The camera is very lightweight and can be mounted with a tripod allowing you to shoot steadily.  
The camera doesn't have any interchangeable lens option but the dedicated lens is good enough to film your miniatures. And the basic functions you will need to film the miniatures are all in the camera.
4. Fujifilm S4500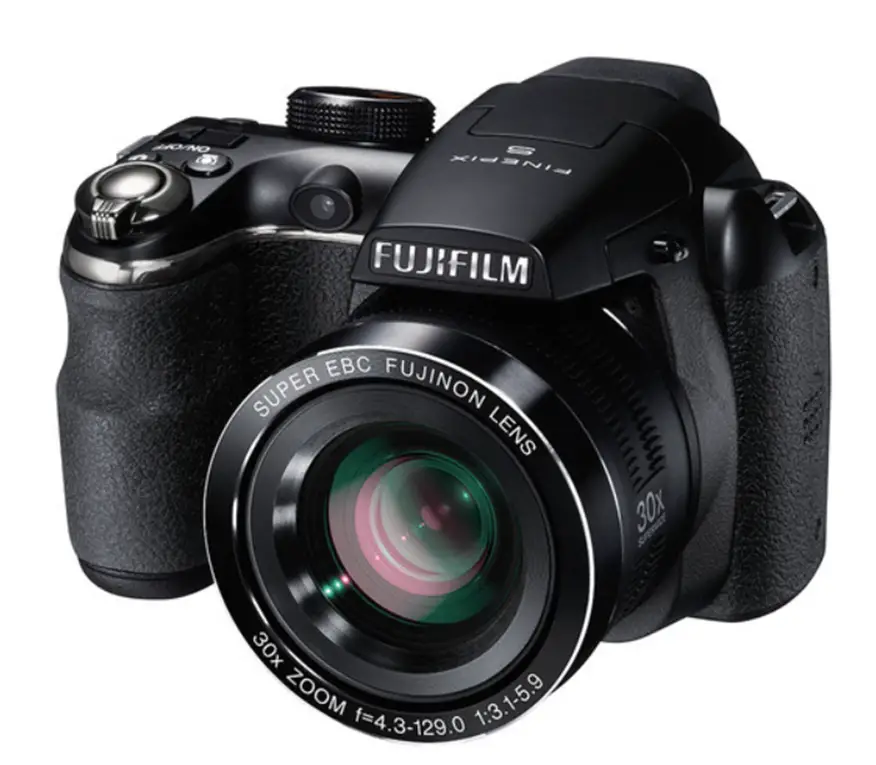 Specs:
Body type: SLR-like (bridge)
Max resolution: 4288 x 3216
Effective pixels: 14 megapixels
Sensor size: 1/2.3″ (6.17 x 4.55 mm)
Sensor type: CCD
ISO: Auto, 64, 100, 200, 300, 400, 800, 1600, (3200, 6400 with boost)
Focal length (Equiv.): 24–720 mm
Max aperture: F3.1–5.9
Screen size: 3″
Screen dots: 230,000
Max shutter speed: 1/2000 sec
Format H.264, Motion JPEG
Storage types: SD/SDHC/SDXC
USB: USB 2.0 (480 Mbit/sec)
Weight (inc. batteries): 543 g (1.20 lb / 19.15 oz)
Now I will be talking about a 10 years old point and shoot compact camera. The Fujifilm S4500 is a camera that has 3 more brothers. The S4400, S4300, and S4200. They all are the same camera with different lenses.
The camera has a good ISO range (64 to 6400) that will keep you in cover with the miniature filming setup. S4500 has a DSLR-like design but it is a point-and-shoot camera. The picture quality is decent and will be very good enough for filming the miniatures.
The Fujifilm S4500 is a very cheap compact camera. You can start filming your miniatures right away. Considering the other cameras I have mentioned in this article the Fujifilm S4500 is on the cheap side.
You won't have to compromise any of the functions you will need to film miniatures.
5. Canon EOS Rebel SL1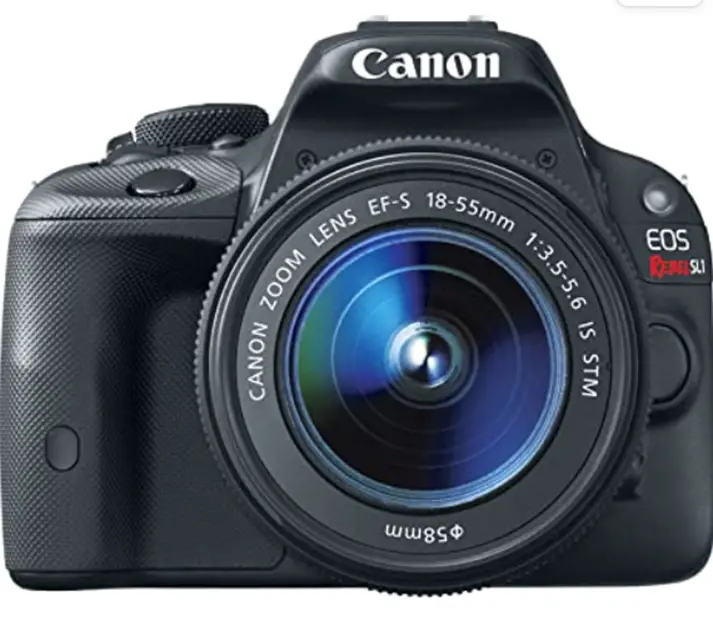 Specs:
Weight: 400g/14oz.
Sensor: 18MP APS-C sensor with 14-bit DIGIC 5 processor
Autofocus: 'Hybrid CMOS AF II' system with 80% frame coverage
Continuous autofocus in movie mode with subject tracking
ISO: 100-12800 (expandable to ISO 25600)
4 fps continuous shooting
Video: 1080/30p video recording, monaural microphone
Display: 3-inch fixed capacitive touch-screen
9 point AF
The Canon EOS Rebel SL1 is a DSLR you can use with one hand. The Term SL stands for Super Lightweight.
The picture quality is great and you have tons of functions to tweak around. It has another name EOS 1000D depending on where are you buying the camera from. What's equally amazing is that Canon has managed to keep most of the settings and capabilities generally found on a Rebel-series camera.
Any Canon DSLR user will be able to use the front dial and specialized ISO, exposure compensation, and AF/AE lock buttons.
As the Canon Rebel SL1 is an EOS DSLR camera, you won't have to worry about lens selection as Canon EOS has vast lineups for its lenses.
To film miniatures, you won't need expensive lenses to get the perfect images. Photography is all about skills you can capture beautiful photos using a mediocre camera and lens. But for filming miniatures, having a wide-angle lens is recommended.
6. Canon EOS Rebel T7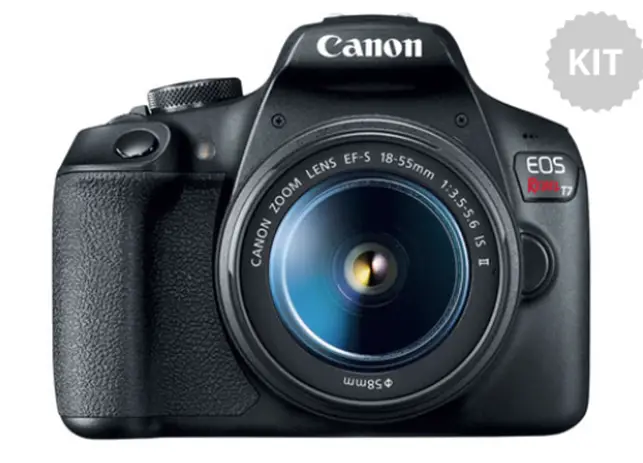 Specs:
Body type: Compact SLR
Max resolution: 6000 x 4000
Effective pixels: 24 megapixels
Sensor size: APS-C (22.3 x 14.9 mm)
Sensor type: CMOS
ISO: Auto, ISO 100-6400, expandable to 12800
Lens mount: Canon EF/EF-S
Focal length mult.: 1.6×
Screen size: 3″
Screen dots: 920,000
Max shutter speed: 1/4000 sec
Storage types: SD/SDHC/SDXC card
USB: USB 2.0 (480 Mbit/sec)
Weight (inc. batteries): 475g
Do you want a DSLR to film miniatures? Are you looking for the best cheap DSLR camera for filming miniatures?
The Canon EOS Rebel T7 could be the DSLR that you are looking for. The Canon EOS Rebel T7 comes with FE-S 18-55mm IS II lens and offers good picture quality. The feature set of the T7 is sufficient for individuals who desire to advance their photographic abilities.
With high ISO and long exposure noise reduction disabled, the T7 handled high ISO situations better than expected.
Up to ISO 6400, the noise stays effectively under control. That is highly needed in filming miniatures.
Overall the Canon EOS Rebel T7/ 2000D is a perfect camera for versatile use and one of the best cameras for filming miniatures. As it is a full-frame DSLR you have manual aperture control.
The aperture range is decent as well. Combining a good lens with it, you can get good photos and videos.
It comes with a CMOS sensor that gives you a sharp image and you won't sweat in the post-processing.
7. Seree Video Camera Camcorder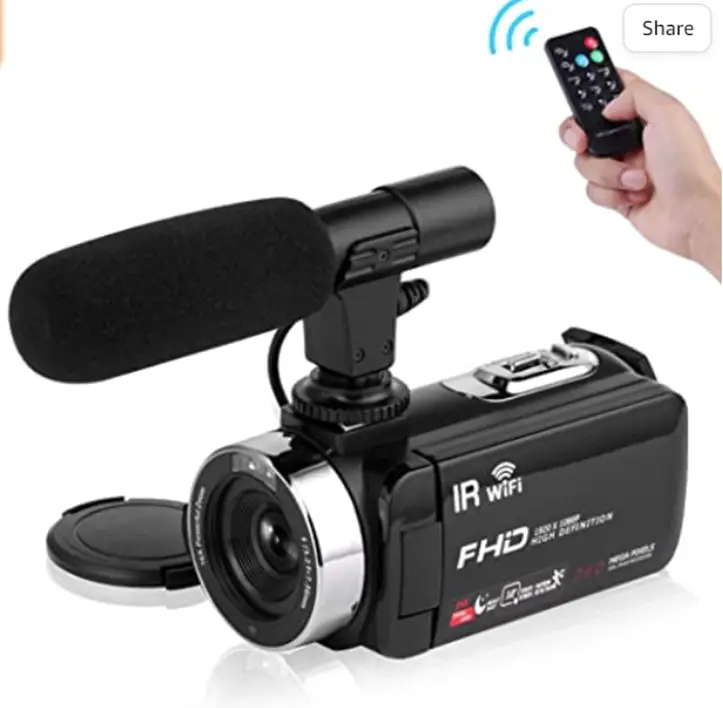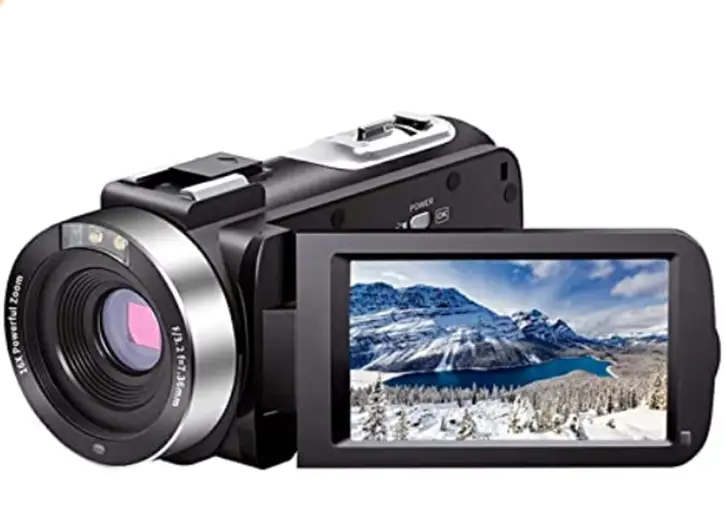 As a camera, the Seree Camcorder won't satisfy your needs if you have used a DSLR camera before. The Camera is good enough for recording HD videos. It is an all in all camera that will be well enough to fill your basic needs.
As you are looking for a camera for filming miniatures, consider having a SEREE video camera camcorder. If you want to make video content with your miniatures, the Seree Camcorde will do a great job.
If you are on a really tight budget and want a dedicated camera to film this is the one.
The SEREE camera takes photos at 30.0M and shoots videos in full HD 1920x1080p. It still captures clear photos in the dark thanks to its outstanding night vision. You receive everything you need to start recording with the SEREE camera.
Along with the lens, user manual, lens protection, remote control, and microphone, there is also an HDMI cable, carrying case, charger, and USB wire. You will only need an SD card to start filming.
8. Olympus TG 610 Tough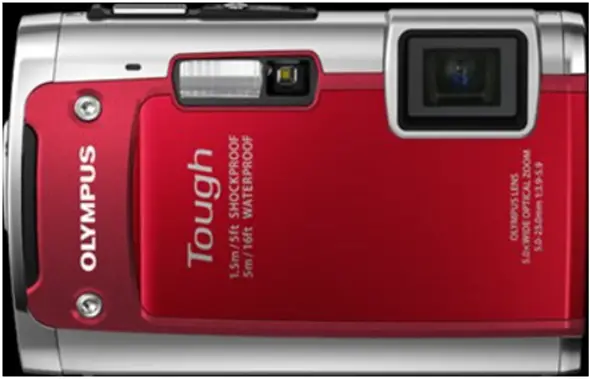 Specs:
Body type: Compact
Max resolution: 4288 x 3216
Effective pixels: 14 megapixels
Sensor size: 1/2.3″
ISO: Auto, High Auto, 80, 100, 200, 400, 800, 1600
Focal length (Equiv.): 28–140 mm
Max aperture: F3.9–5.9
Screen size: 3″
Screen dots: 920,000
Max shutter speed: 1/2000 sec
Format Motion: JPEG
Storage types: SD/SDHC/SDXC
USB: USB 2.0 (480 Mbit/sec)
Weight (inc. batteries): 190g
The Olympus TG 610 Tough is a very old camera. It is a 14-megapixel compact camera with a very fast shutter speed. If you don't have a budget at all, you can spend 50 bucks on this and have a dedicated camera.
I know it is not the best camera for filming miniatures. But it is definitely better than filming miniatures with smartphones.
As you see the ISO range is well-balanced and the aperture range is decent too. You can use the camera to shoot retro-type footage as well.
I will highly recommend the Olympus TG 610 Tough if you don't have anything to film. If you have a good smartphone for filming the miniatures I will suggest you read this blog to have a clear idea about, why the Camera is superior in terms of taking photos.
9. Panasonic Lumix FZ80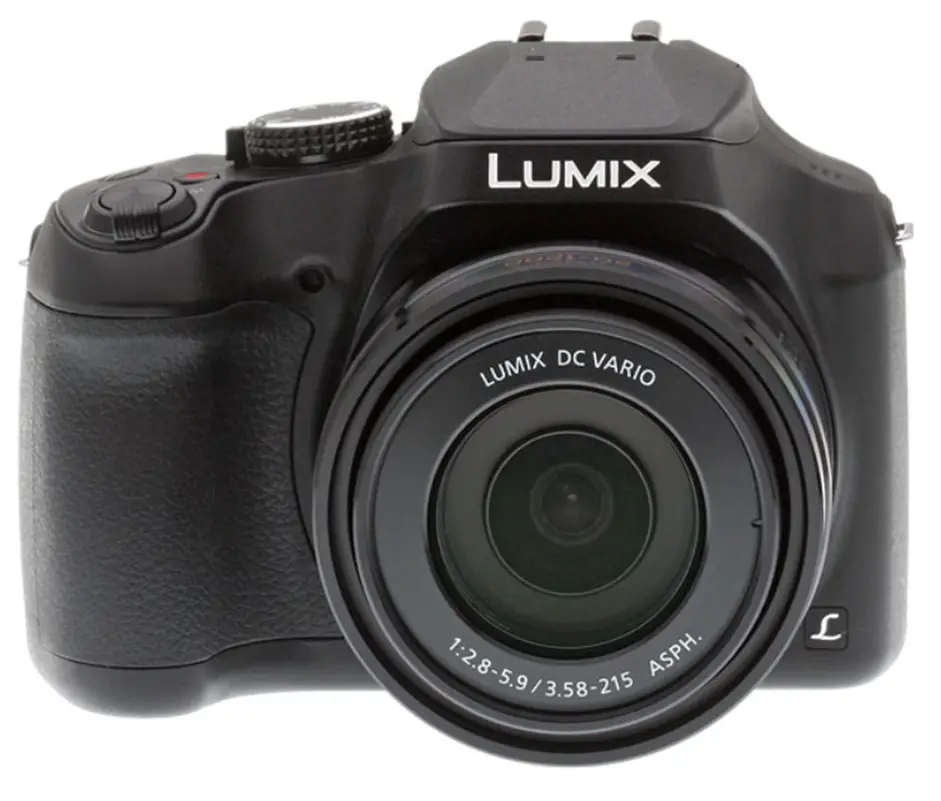 Let's have a look at the specification:
Sensor: 18.1-megapixel 1/2.3-inch CMOS sensor
Lens: 60x zoom lens (20-1200mm equivalent f/2.8-5.9)
Screen: 3-inch touchscreen LCD
Features:
10 frames per second continuous shooting
RAW format support
4K UHD video recording
4K Photo modes
Built-in Wi-Fi
Now I will be talking about some professional cameras for filming miniatures. They are a bit overkill for the purpose but I have to mention them as many of you may want to film the miniatures professionally.
The Panasonic Lumix FZ80 is a lightweight camera that can handle your daily jobs and particularly film miniatures.
The camera can capture 10 fps RAW footage and the color accuracy is amazing. Very fast autofocus will keep you covered on focusing your miniatures.
If you are looking for the best camera for filming miniatures and you have enough money in your wallet, then you should get this camera.
But I am saying again the camera might be a bit overkill for filming miniatures.
10. Panasonic Lumix G70
Specs:
Sensor: 16 Megapixel Four Thirds CMOS Sensor
Video: 4k UHD Video up to 100Mbps 30p/25p + 24p, 4K Photo Mode with Pre Burst Mode.
Fully Articulated touchscreen
Wifi for remote shooting and image transfer
Weight: 410g
The Lumix G70 is mixed of mirrorless and DSLR cameras. Although it is a DSLR in a small body. And it has all the controls and interchangeable lens facilities that a DSLR has.
The specification is very solid. It has a large 16MP sensor with 4K UHD video capture capability. Professional content maker and miniature filmmaker Trovarion Miniatures uses the Lumix G70 for his content.
This is a very high-end camera for professional use. You have a vast variety of lenses that makes the Lumix G70 versatile.
So, The Panasonic Lumix G70 can be the best camera for filming miniatures if you are a professional filmmaker or miniature photographer. And if you have the money to buy the camera, you absolutely go for it.
The camera doesn't come cheap. It is the most expensive camera in this discussion. The camera costs $500.
Things to Remember While Buying a Camera for Filming Miniatures
If I have to suggest to you the best camera for filming miniatures, that could be the Panasonic Lumix G70. It is a highly professional camera for versatile use.
The second choice will be the Canon M50 and M50 mark 2. Alike the G70, both of the cameras are well suited for filming miniatures as well as versatile use.
And last but not least, if you are on a very tight budget, Olympus TG 610 is my personal favorite. It is a retro camera with a very good aperture range. And I like the color profile it delivers.
However, there are a lot of things you need to consider before filming miniatures. The key component of having a good photograph is Light. If you know how to play with lights you can have great photos with a very cheap camera.
Photography is all about passion and creativity. There is no best camera of any particular use. You can take mesmerizing photos with your smartphone. You just need to learn when and where to shoot and how to take advantage of lights.
To learn more about filming miniatures, read this article.
Conclusion
So in the conclusion, I hope you have understood there is no best camera in the market for any particular use.
You need to consider so many things to have professional-level content. And find the best camera for filming miniatures, there is a big factor here. How much can you spend on your content?
I hope this article will help you to find your camera for filming miniatures. And I wish you luck in your photography journey.