Sony FX3 vs A7S III: Is the Newer Camera Better?
As an Amazon Associate, I earn from qualifying purchases.
Sony has always been a significant player in the premium mirrorless camera market for a very long time. They have always been leagues ahead of their competitors in designing and implementing the best technology.
Both the Sony FX3 and the Sony a7S III cameras are intended for experts and hobbyists seeking cutting-edge functionality and superb image quality. There are many similarities between these cameras.
The characteristics, features, and performance as well as the similarities of the Sony FX3 vs A7S III will be compared in this article.
Sony FX3 vs a7S III: Quick Comparison Chart
| | | |
| --- | --- | --- |
| Feature | Sony FX3 | Sony a7S III |
| Sensor | Full-frame 12.1 MP | Full-frame 12.2 MP |
| Lens Mount | Sony E-mount | Sony E-mount |
| Autofocus | Fast and accurate | Fast and accurate |
| Image stabilization | 5-axis in-body | 5-axis in-body |
| Storage | Dual SD card slot | Single SD card slot |
| EVF resolution | N/A | Higher than FX3 |
| Weight | 640 g | 699 g |
| Battery life | N/A | Longer than FX3 |
| Video | 4K at 60 fps, Full HD at 120 fps | 4K at 120 fps, Full HD at 240 fps |
| Built-in flash | Yes | No |
| Price | $3,899 | $3,498 |
| Buying link | Sony FX3 | Sony a7S III |
| Release date | February 23, 2021 | October 23, 2020 |
Sony FX3 vs Sony a7S III: A Detailed Comparison
Even though both cameras have a similar feature set some distinct characteristics between the two are unique to each camera.
Let's take a look at these differences and find out the best camera to get in this ever-evolving world of photography.
A word of caution is to take these findings with a grain of salt as these are both premium cameras that come at high prices and are geared toward professional use.
Similarities Between the Two Cameras:
Both cameras have a full-frame 12.1 MP sensor.
Both have fast and accurate autofocus systems.
Both have a tilting touchscreen LCD and built-in microphone for audio recording.
Both can shoot continuous photos at up to 10 frames per second.
Both have built-in WiFi and Bluetooth for easy connectivity and image transfer.
Price:
The prices of these two cameras are off the charts which is understandable. The Sony FX3 comes at $3899, just shy of $4000 which is a big investment. There's also a consideration for lenses and a budget to keep aside for them.
The Sony a7S III is priced at around $3500 which is fairly less than its competition here.
This difference gives the Sony a7S III some leeway to set aside some of the budgets for lenses and other utilities that might be important as people tend to build their budget around round figures which in this case is $4000.
Consideration of all other aspects aside, the Sony a7S III gets the upper hand in terms of price as budget is a serious issue for a lot of enthusiasts.
Build Quality:
The Sony FX3 is a small, light camera with excellent portability features. It has a clean, minimalistic, and elegant design with a textured grip for better control and additional comfort. The camera is weatherproof, making it suited for use outside in adverse weather.
Here's a side-by-side picture for comparison.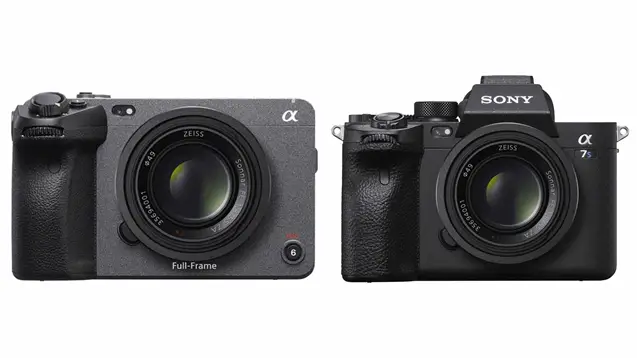 On the other side, the A7S III is a little larger and heavier than the FX3. With a prominent grip and a bigger body, it sports a more conventional DSLR-like design. Although marginally more durable than the FX3, the camera is likewise weather-sealed.
Both cameras are of a high caliber and have a sturdy, long-lasting structure in terms of build quality. The FX3 is a bit thicker which is discussed later in the article.
Due to its more durable design, the A7S III may, nevertheless, be better appropriate for heavy-duty applications.
Design and Layout:
Both the Sony FX3 and Sony A7S III offer intuitive button and wheel layouts that make controlling the camera and changing settings simple. The A7S III features a more complicated button layout that includes specialized buttons for key functions, whereas the FX3 has a more streamlined design.
Here is a comparison of their side view.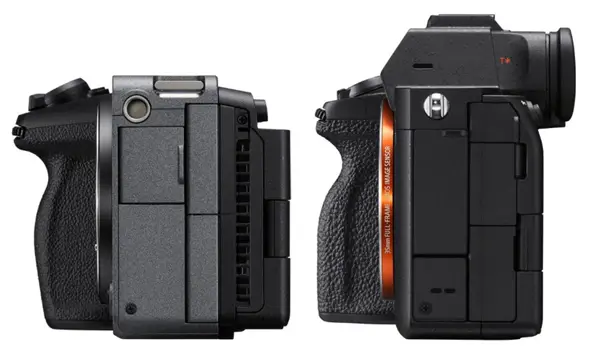 For adjusting settings like shutter speed and aperture, both cameras use a single dial on the top of the camera. In addition, they contain a rear dial for changing other settings such as exposure compensation.
A noticeable difference between the two cameras is that the FX3 looks exactly like a cinema camera. It has the same outer body design and color as the FX6 which is a cinema camera.
Here are some photos that showcase the button and wheel positions of the respective cameras.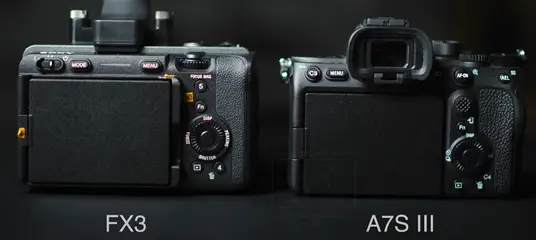 Compared to the FX3, the A7S III's electronic viewfinder offers a greater resolution, making for a more detailed and engaging shooting experience.
Having more versatile control options, The Sony a7S III takes the lead here.
Performance & Image Quality Comparison
The performance and image quality produced by a camera has the biggest part in the decision-making process. The Sony FX3 and the Sony a7S III both feature similar performance counters.
In terms of image quality, there are almost no significant differences between the two. Let's look at a sample.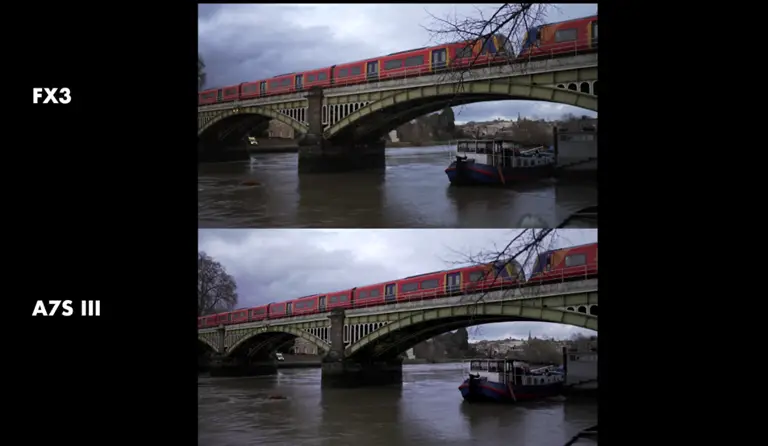 Here the two images look almost identical. These images are stills from videos shot side by side with the two cameras. Everything from color reproduction, to focus accuracy and even the dynamic range to some extent is on a similar level.
There isn't much to discuss here when the ingredients to build the Sony FX3 and the Sony a7S III were the same.
So, they both get a score for outstanding performance. One thing to keep in mind is that the Sony a7S III has a larger sensor which may give it some edge in some scenarios.
Video Performance
The main point that separates the two cameras is the video performance. The Sony FX3 was built with the view to perform in videos with the S-Cinetone profile available from launch.
Sony however has taken a step back to introduce it to the a7S III as well. So both cameras now have the S-Cinetone profile available for use.
The Sony FX3 can record high-speed Full HD video at up to 120 frames per second and 4K footage at up to 30 frames per second. The camera also features a built-in microphone and a 3.5mm microphone connection, enabling the recording of films with excellent audio.
The A7S III, on the other hand, can shoot high-speed Full HD video at up to 240 frames per second and can capture 4K video at up to 120 frames per second. The camera also features a 3.5mm microphone connector and an integrated microphone.
Even though the FX3 was designed for cinema, the A7S III outperforms the FX3 in terms of video performance thanks to greater frame rates and more sophisticated video capabilities.
Active Cooling
With high-quality video shooting a lot of the time users face a heating issue which is why Sony has made the FX3 a bit bulkier to have fans built into the camera body for active cooling.
The Sony A7S III does not however provide active cooling. If someone's not working in very hot conditions or has to rely on long continuous shots then the A7S III's cooling should be sufficient.
The FX3 however will be the more reliable camera in extremely hot conditions and run slightly longer than the Sony A7S III.
The Sony FX3 takes advantage of dealing with tough weather conditions.
Sony FX3 or a7S III: Which One Should You Pick, Finally?
The Sony FX3 and the Sony a7S III are nearly identical in performance and image quality with the Sony a7S III taking the lead in taking higher-resolution videos. It is also priced lower than the Sony FX3.
Sony has implemented the profiles in the a7S III that were once advantages for the FX3. That is no longer the case and the Sony a7S III is on par or even better than the FX3.
The A7S III has a modest advantage in terms of picture quality and video performance due to its bigger sensor and greater frame rates, even though they have many identical features and specs.
The FX3, on the other hand, is smaller and lighter, making it more practical for regular usage and travel. The winner of this debate from my side is the Sony A7S III, which is the better camera and leaves headway for the budget to be spent on the lens and other stuff.